Rolla Aikido is directed and managed by the governance of the Chief and Head Instructors, MST student officers, assistant instructors, assigned officer positions and occasional advisers. They are highly dedicated to the advancement of the dojo and it's members, taking as their primary focus and priority to forge and maintain a unity within the dojo through technical standards for all members, a clear direction for growth and a clear pathway for the continuity of our high standards of practice.
Thomas Burden – Chief Instructor
Patrick Bazzoli – Head Instructor
Paul Stephens – Assistant Instructor
Robert Haselwander – Assistant Instructor
President – Patrick Bazzoli
Vice President – Paul Stephens
Treasurer – Ethan Reynolds
StuCo Rep. – Patrick Bazzoli

Tom Burden, Chief Instructor
Tom Burden Sensei is the head of Central Aikikai, which Rolla Aikido is a member dojo. He began studying aikido in 1991 under Vic Montgomery Sensei of Midland Ki Society, where he studied for approximately two years. After an extended hiatus he co-founded Central Aikido, where he is now the Chief Instructor. In his years in aikido he has been privileged to teach multiple seminars and workshops around the midwest, as well as receiving training from many great instructors in the US Aikido Federation and beyond, and maintains ties to many high level instructors with whom he trains with often.

Aside from Aikido, Burden Sensei also studies and teaches Iaido (Muso Jikiden Eishinryu), and zen meditation. He also studied Jeet Kune Do in his youth.


---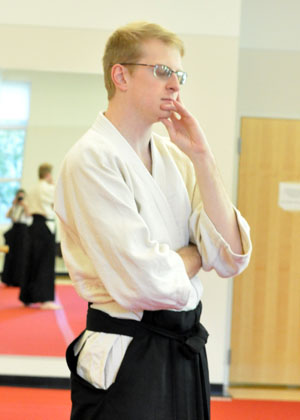 Patrick Bazzoli, Head Instructor
Patrick Bazoli Sensei began his training in aikido in 2013 under Jesse Holmes, the original head instructor of Rolla Aikido, then under Peter Fehner, her predecessor (both under Burden Sensei). In 2015, with Burden Sensei's urging, he assumed the role of dojo-cho and eventually became the head instructor when Peter graduated MST. Since he has traveled often with Burden Sensei to train all across the US.









---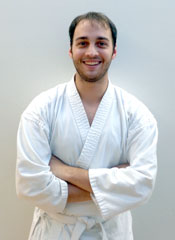 Paul Stephens, Assistant Instructor
Paul Sempai began training under Jesse Holmes, and leter Peter Fehner in 2013. He was appointed to assistant instructor by Bazzoli and Burden Sensei in 2017.








---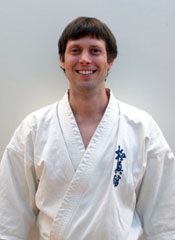 Robert Haselwander, Assistant Instructor
Robert Sempai has been with the dojo the longest of all the Rolla instructors, joining in 2012. While his training has been slightly delayed by the birth of his daughter, he remains a devoted member of the dojo and a valuable member of the teaching staff.